Welcome to the Weird and Wonderful Free Stuff Haven of: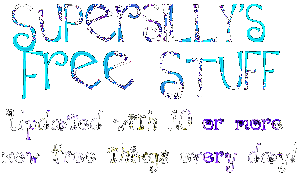 Supersilly's Free Stuff was Created, and is Maintained and Owned by Sarah Schurr
Like My Web Page Design? I Design Web Pages For a Low Reasonable Fee. E-mail Me If You Are Interested!
---
A Note To My Readers:
As you know, I haven't been keeping up with the daily updates. This is because I have a serious lack of time. I simply can't update as much as I promise. In this case, I am asking one of you to take over for me. You must have all the following to be considered:

1.You must know HTML very well.
2. You must not change the name of the page, or the over all layout of the page.
3. You must leave my name up as owner and creator of this page, You will be listed as the Webmaster or daily updater
4. You must update daily with 10 or more NEW free things. Do not recycle old free offers!!
5. You must have a good web browser, and e-mail.

If you are interested in being the new webmaster for Supersilly's Free Stuff, please write me and tell me about your self, and your HTML experience. My e-mail address is: logan5@juno.com. I hope to choose a new webmaster by the end of the week, so please hurry and let me know you'd like to take this thing on!
Sincerly,
Sarah Schurr

(Please excuse my spelling errors!! I never was good at spelling!)